---
Don Quixote: A Pilgrimage
---
︎
You may not know how to save your soul,
but you know how to put one foot in front of another.
You may not know the way to stop being so furious you can hardly sleep,
but you can buy a road map.
And then you can put the need on like a knapsack
and wear it along your journey,
wear it out,
shed it,
find that it belongs to someone you no longer are.
That is pilgrimage.
Which is not as pretty as it sounds.

---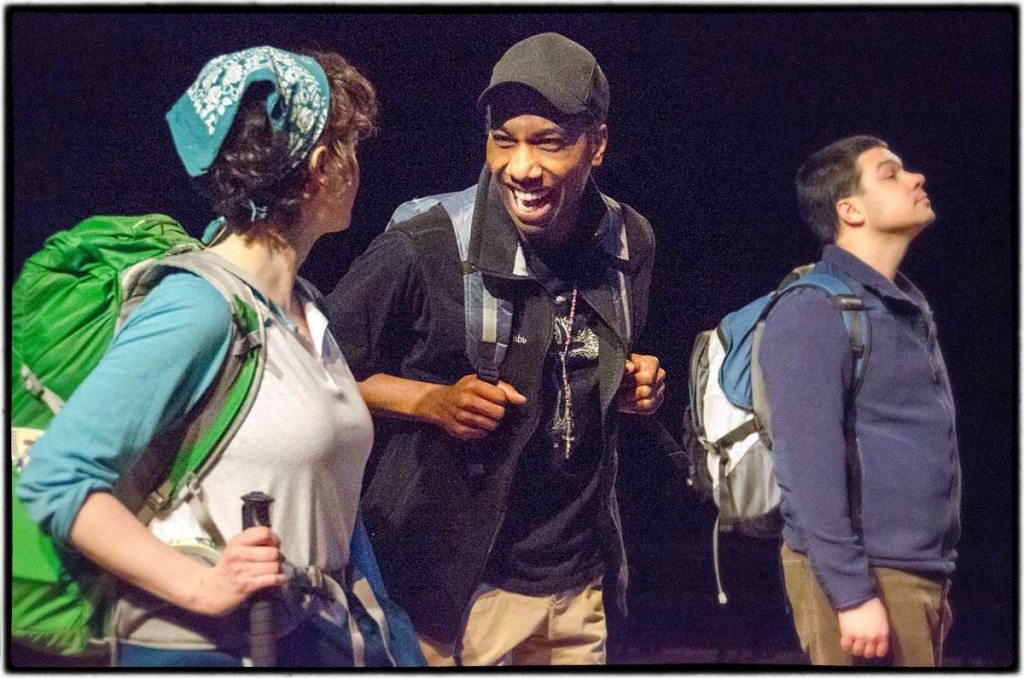 ---
SYNOPSIS

Isabel is walking 500 miles across Spain. What is she looking for? And is she ready for what she will find?

A splintering and remix of Cervantes' massive (and metafictional) novel that examines how we get lost and how we can find ourselves again.


---
---
PRODUCTION HISTORY
Don Quixote: A Pilgrimage
was devised and workshopped with Available Light Theatre in 2014, and was presented in staged reading at its
Next Stage Initiative
in January 2015. It was fully produced as part of their
season
in March 2015. You can read more about it in Schlueter's
interview
with Adam Szymkowicz, as well as in preview articles in
Columbus Alive
and the
Columbus Dispatch
.
In March 2016,
Don Quixote: A Pilgrimage
toured to Cleveland Public Theater for a
limited run engagement
as part of its Out of the Box series.
Directed by Matt Slaybaugh
Costumes by Travis Bihn
Featuring Acacia Duncan, Elena Perantoni-Fehr, Drew Eberly, Kim Garrison-Hopcraft, and David Glover
---
---
REVIEWS
"Whimsical, poignant and lyrical,
Don Quixote: A Pilgrimage
offers images and insights that illuminate life's erratic journeys." –Michael Grossberg,
Columbus Dispatch
"a fiction, a lie, and a wandering wonder" –Jay Weitz,
Columbus Alive
---
---
ABOUT THE PLAY

Like Schlueter's work with the for/word company, this play is a remix of a wide variety of sources including Kathryn Harrison's The Road to Santiago; Elaine Orabona Foster and Joseph Foster III's In Movement There Is Peace; Jack Hitt's Off The Road; Donald P. McCrory's No Ordinary Man: The Life and Times of Miguel de Cervantes; Donald and Maria Schell's My Father, My Daughter: Pilgrims on the Road to Santiago; Paolo Coelho's The Pilgrimage; Robert Ward's All the Good Pilgrims; Kathleen Ashley and Marilyn Deegan's Being a Pilgrim; Wendy Lesser's "The First Novel," Jorge Luis Borges's "Pierre Menard, Author of the Quixote;" Frederic Gros's A Philosophy of Walking; Rebecca Solnit's body of work including The Faraway Nearby, A Field Guide to Getting Lost, A Book of Migrations, Men Explain Things To Me, and Wanderlust; the vast collection of pilgrim's photography and recollections on tumblr, especially Goldiknocks; "The Weight" by The Band; and Edith Grossman's elegant translation of Miguel de Cervantes' Don Quixote. It was developed in workshop with members of Available Light Theatre (Columbus, Ohio) including Acacia Duncan, Drew Eberly, Kim Garrison-Hopcraft, David Glover, Eleni Papaleonardos, Elena Peratoni-Fehr, Michelle Schroeder, and Matt Slaybaugh.


---